Happy Halloween!
*Make sure to enter the Tropical Traditions Gold Label Virgin Coconut Oil Giveaway!  Tropical Traditions has been kind enough to extend this contest for an entire week!  The winner will be announced on Tuesday, November 6.
Today is a very special day, because not only is it Halloween, it is FOODIE PEN PAL REVEAL DAY!
If you are new to the blog, or have never heard of Foodie Pen Pals, it is simply a way for bloggers and blog readers to connect and interact with one another by swapping foodie packages.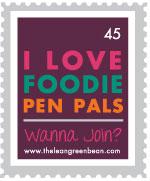 On the 5th day of each month, a "match" list is sent out to all of the participants.  Each participant is then responsible for contacting his or her pen pal to find out food likes, dislikes, allergies, and intolerances.
By the 15th of each month, each participant is to send a food goodie ($15 is the max!) that can be homemade, local, store bought, sweet, salty, healthy, or naughty to his or her pen pal.
On the last day of the month (or the first, depending on when the last day falls) each participant who has a blog is to write a post about the treat that they received in the mail.
Lindsay from the Lean Green Bean does a great job of reminding everyone when to mail things, contact people, and post on the blog.  Thanks so much for organizing this, Lindsay!
____________________________________________________
I have to admit that I love getting packages in the mail, and that is definitely one of the reasons why I participate in this little event 😉
This month, I received my package from  Vincente over at Vittle Monster.  Vincente made sure to include a variety of tasty things mostly from the West coast.
Out of all of the goodies, this almond "Barney Butter" is by far my favorite!  And it is made right in his home state of California.
I received some pumpkin beer that is locally brewed in the bay area.
He also sent me some typical Filipino snacks.  This cornick is like corn nuts.  I haven't tried it yet, but I bet it is pretty tasty 😉
These are adobo flavored peanuts.  I love peanuts, and I love spice.  A winning combination.
And finally, he sent me some candy because, after all, it is Halloween!
If you were able to send a package of your favorite treats and snacks…what would you send?!
I would send some homemade nut butter, some sort of baked good (because I love to bake!), and homemade granola.